What does mobility equity look like in practice?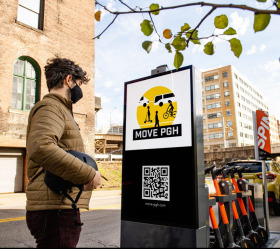 Equity has emerged as one of the most pressing concerns for transport policymakers as cities across the globe begin to build back after the pandemic. With a 2015 Harvard study pinpointing access to reliable transportation as the biggest factor for determining economic mobility, it's not hard to understand why. At a recent Cities Today roundtable, transit leaders from across the country discussed the shift in how cities interpret equity, and how this might impact and influence decisions on the ground.
Pittsburgh's own Director of Mobility and Infrastructure, Karina Ricks, and our city's approach to addressing equity in transportation mobility was recently highlighted in an article published by Cities Today following the roundtable. Excerpts are included below, and the full article can be read here.
"Transportation mobility is the key to social and economic mobility, and transportation mobility is wildly unequal across our city and many other cities in the U.S.," said Karina Ricks, who is moving on to serve as the Associate Administrator for Research, Innovation and Demonstration with the Federal Transit Administration in Washington, D.C. "No household should have to spend more than 40 percent of their income on housing and basic mobility, that's the ceiling we should set."
Two initiatives designed to boost equitable access to mobility here in Pittsburgh include Move PGH, the country's first "mobility-as-a-service" (MaaS) project that connects traditional and emerging low-cost, shared transportation options into a single system, and Universal Basic Mobility, which provides up to 100 low-income residents with monthly transit subscriptions and shared mobility services for six months. Traditionally a car-centric city, Pittsburgh's model will serve as a key testing ground for the expansion of people-centric MaaS initiatives in the U.S.
Other U.S. cities mentioned in the article which are putting forward efforts to address mobility equity include:
Charlotte – Currently assessing the role mobility hubs ability to evenly distribute services around the city for those without a vehicle, they hope to have a typology of design standards that enables quick deployment of hubs in the next year

Houston – Working to develop a strategic approach towards equity that incorporates other city departments, as well. "Everybody in transportation believes in safety, and to some extent equity and sustainability, but we've actually realized those words don't mean the same thing to everybody."
A renewed focus on equity has also become apparent in the private sector, with firms dedicating increasing amounts of time and resources to boosting initiatives for underserved communities. Angela Miller, Specialist Leader at Deloitte, said "Of course we all want exciting innovations in mobility, but it's clear that there is no future of mobility without equity. Without the policy aspect to this, we're likely to make decisions that are not necessarily thinking about the customer equitably. By that I mean if we allow start-ups to define where and how they're going to incorporate their services or they roll over the overall transportation policy or an area, thats a problem."