Urban planners in Denmark demonstrate how "vibrant streets are also efficient streets" and San Francisco bike advocates try new action to combat violators blocking protected bike lanes for "just a minute"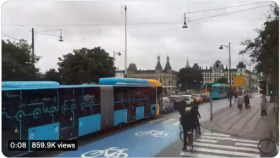 "Bike lanes often only look empty because they are efficient."
Danish urban planner urbanthoughts11 demonstrates the point with a video from Anders Adamsen on Twitter this week showing an urban streetscape in Copenhagen where the bike lane more often than not looks relatively empty – especially when compared to the amount of cars seen traveling the adjacent roadway – despite the bike lane actually moving 8 times as many people on bikes than the adjacent roadway moves by car each day.
Visualizations like these help to demonstrate how easy it is, thereby, to overlook or fail to realize how efficiently well-designed multimodal infrastructure can move people into, around, or through urban centers like Oakland by providing equal access for those who walk, bike, drive, carpool/vanpool, ride transit, use an assisted mobility device, or utilize micromobility devices like an e-scooter.
Videos like this one are a good reminder that multimodal infrastructure like dedicated bike lanes or dedicated transit lanes like those here in Oakland are often moving large volumes of people so efficiently that they often simply seem to be unoccupied.
In San Fransisco, members of the "People Protected Bike Lane" advocacy group protested what they see as a lack of progress on establishing long-promised protected bike lanes in their area. Earlier this week, each time a motorist parked in the bike lane to load or run into a shop for "just a minute", protestors temporarily blocked the adjacent traffic lane in order to create space for bicycles to safely leave the bike lane to get around an illegally parked car.
After years of advocacy for Valencia Street (where this recent protest took place) in particular, pilot programs in portions of the street have been conducted since 2019 and, last year, SFMTA did reveal plans to begin installing protected bike lanes and intersections on the length of the street, but the project has failed to get off the ground.
And, shared by the Cycling Embassy of Denmark, check out this experimental zebra crossing design on a dedicated bicycle street which planners hoped would create an optical illusion that "tricked" travelers enough through the optical illusion that they'd slow down for pedestrians crossing in the crosswalk. According to the Cycling Embassy, the experiment last fall has since ended as the municipality works to identify more heavily utilized intersections to install the 3D pedestrian area to continue measuring its impact on slowing down traffic through May 2024.
3D crossings like this most recent one in Aarhus have been tried in other parts of Denmark, as well, with indications that it has contributed to a reduction in speed and, though initially there were inquiries from startled travelers, they have since gotten used to it. Advocates of the 3D crossing, of course, cite that "the idea is also that you have to notice it," so creating wonder and inquiry once installed is intentional.
What do you think of the approach? How would you react if this where in our city?
Source (will require Google Translate)