Is the tidal wave shift to remote work brought on by the pandemic here to stay?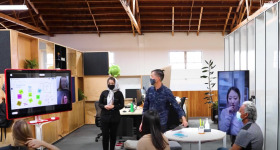 In October, consulting giant PriceWaterhouseCoopers announced that it will allow 40,000 of its 55,000 workers to continue working remotely from anywhere in the continental United States, sending shockwaves through the business world by many accounts. Of course, PwC isn't the first major company to make such an announcement, with many tech companies having already done so earlier during the pandemic, and two of our region's biggest employers – PNC Financial Services Group and Bank of New York Mellon – continuing to refine their plans for bringing remote workers back to the office. PNC had plans to be back in the office full-time by November. They've now pushed into "early 2022". BNY Mellon is delaying its return-to-office plans until 2022, as well.
Needless to say, the pandemic continues to force companies to rethink their policies around where people work. A large component for the consistent shifting of return-to-work policies has reportedly been the concern for losing talent due to the requirement of going back to an office.
Companies don't want to push fearful workers, nor do they want their employees getting sick. Even fully vaccinated workers are at risk of contracting the delta variant, and those workers can be carriers who might infect unvaccinated coworkers in an office setting. With most companies relying on the honor system when it comes to workers' vaccination status, a delta outbreak is still a possibility.
Delaying the return-to-work plans again and again has become the new normal. Most of the back-to-office policies reviewed by Fast Company back in July, for example, included some form mix of remote and on-site work by fall – but almost all have since been adjusted, postponed several times, or delayed indefinitely.
Microsoft, for example, announced in September that they would scrap the October 4th reopening of their Redmond, Washington headquarters indefinitely – providing no new date at the time, and both Apple and Amazon intended to begin a 3-2 plan (in the office three days per week) by October after earlier attempts to implement the policy received pushback from employees, but both tech giants have since pushed the date even further into January 2022. Amazon has since shifted even further, now allowing company managers to decide when corporate employees need to return to the office – if at all.
Google was among the first major companies to require its employees to get vaccinated before returning to the workplace, but even still, they've extended their voluntary work-from-home plan several times, with the latest expectation of January 10, 2022, while acknowledging that every country/location/office may have different conditions thereafter. And regardless of the date, post-pandemic Google believes that about 60% of its employees will be in an office three days a week, with another 20% working in new office locations, and 20% still working from home.
Until the PwC announcement, the "big tech" sector had been one of the most vocal employment industries on the subject, but with the accounting/consulting firm's move to remote work indefinitely, could it be that the shift to remote work is here to stay? Financial institutions like Bank of America, Goldman Sachs and JPMorgan have recently moved to return their employees to the office full-time – with Goldman even going as far as offering 30% salary increases for new hires in an effort to encourage recruits, perhaps suggesting a new standard that if you want employees to return to the office, you have to pay for it. It's all part of what many are now referring to as the "great negotiation".
In August, Harvard Business Review published their findings on the issue. No matter where you stand, it is clear that this debate continues among America's most influential employers.