"Smart loading zone" pilot program aims to encourage more efficient use of loading zones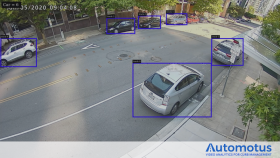 According to the World Economic Forum, the number of delivery vehicles in the top 100 cities worldwide will increase by 36% by 2030, and with that will come more air pollution and congestion to urban centers. Here in Pittsburgh, we're trying a new approach to managing curbside delivery parking.
"We not only have cars being parked there and delivery vehicles, but we have Ubers, Lyfts, transportation network companies, food deliveries, parcel deliveries... We see a lot of double-parking, a lot of idling for longer than is necessary, which creates safety and environmental concerns," says DOMI policy advisor Erin Clark.
So with the help of two grants, Pittsburgh is piloting "smart loading zones" which will use pole-mounted video cameras, machine learning, a short-term fee structure, and an app to help drivers get in and out of loading zones more efficiently. "We're trying to encourage quick trips to the curb. It should get more expensive the longer you want to spend at the curb, but should be more affordable for short trips," Erin says.
Under the first $100,000 grant announced in 2020, DOMI is partnering with curb management startup Automotus to create 20 smart loading zones in dense commercial districts like Downtown, Lawrenceville, Bloomfield, and Oakland. These zones may be open as soon as this month across the four neighborhoods.
And in August, a first-of-its-kind $3.8 million grant from the U.S. Department of Energy was awarded to three cities – Pittsburgh, Santa Monica, and Los Angeles – to develop zero-emissions delivery. Under the new grant, Pittsburgh in particular will continue to partner with Automotus to expand the number of smart loading zones in the city, with an emphasis on incentivizing electric vehicle adoption. In this interview with WESA, Clark noted that poor air quality may have been a reason Pittsburgh and Los Angeles were chosen for the grant.
Those most programs like this across the country do not yet have results, a 2019 curbside pickup-dropoff pilot in Washington, D.C. helped to reduce double parking and illegal U-turns by more than 60%.