New "National Roadway Safety Strategy" considered by many an exciting shift in federal transportation and safety policy at U.S. Department of Transportation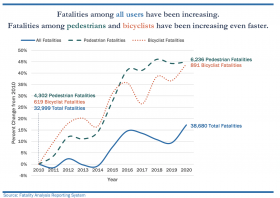 New federal safety policy outlined yesterday by Transportation Secretary Buttigieg embraces many of the ideas and strategies that groups like America Walks have advocated for to deal with the pedestrian safety crisis in America. For America Walks, the new "National Roadway Safety Strategy" goes further than simply acknowledging the deeply inequitable crisis by embracing a "safe system" foundation with a goal of eliminating traffic deaths entirely.
The safe systems approach represents a profound shift because instead of placing blame for traffic deaths and injuries on individuals, the new approach addresses safety shortfalls within the road system itself like unsafe streets and vehicle design. In the words of Buttigieg, "Human fallibility should not lead to human fatalities."
In the new federal road safety policy document, USDOT has proposed a number of policy interventions to help address "the crisis on our roadways" including:
Better guidance for setting safe speed limits and placing less emphasis on the deadly current standards known as the 85th percentile rule

Beginning the process of requiring Automatic Emergency Braking and Automatic Pedestrian Detection sensor technology in new vehicles

Making adherence to complete streets a key criteria for awarding federal grants

Making changes to the Manual on Uniform Traffic Control Devices engineering manual that helps to dictate street design nationwide

Proposes addressing racial bias in traffic stops with additional training and funding opportunities to better track statistics on the race and ethnicity of those targeted for traffic stops

Promises to do more to improve record keeping on the worst drivers and remove them from the roads
According to America Walks, it is an ambitious plan that will take years to implement – with many goals requiring extensive rulemaking processes that call for public input.
Make no mistake that not everyone shares the excitement for a paradigm shift in how state's spend transportation funding. Reported by StreetsBlog USA last week, a group of 16 governors have banded together this week to resist the federal government's push to use the new $1.2 trillion infrastructure package to promote progress on climate change, jobs, and racial justice, writing to President Biden on Wednesday demanding the administration "not burden states or private sector partners with needless and unnecessary red tape," in the distribution of funds for projects under the Infrastructure Investment and Jobs Act. "Excessive consideration of equity, union memberships or climate as lenses to view suitable projects would be counterproductive," the governors wrote. "Your administration should not attempt to push a social agenda through hard infrastructure investments and instead should consider economically sound principles that align with state priorities."