How have the Dutch delivered a traffic safety revolution since the 1970s, while American streets have become far more dangerous?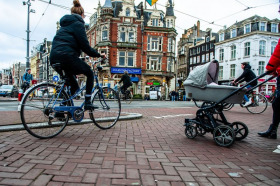 For the last 50 years, the U.S. has increasingly fallen behind most other industrialized countries when it comes to traffic fatalities. By most accounts, the Biden administration's transportation strategy offers an opportunity to change that trajectory, with Transportation Secretary Pete Buttigieg calling the U.S. traffic fatality rate a "crisis".
Bloomberg's CityLab took a look at look at lessons that could be learned from other countries that have been blazing a path toward Vision Zero – the goal for zero traffic fatalities that has been embraced by policy makers around the globe. Exemplar countries like the Netherlands have embraced a holistic approach, strategically reframing the issue to be about much more than just changing user behavior or developing better technology.
Research shows that in 1970, the Netherlands experienced 245 traffic fatalities per million people, almost as high as the U.S. rate at 257 per million. At that time, the U.S. actually had a much lower rate of fatality when measured in relation to fatalities per miles driven. But by 2019, the fatality rate in the. Netherlands had dropped to just 34 per million – now 70% lower than that in the U.S.
Even more astounding area the outcomes for different classes of road users. For example, traffic fatality rates for pedestrians have been trending upward in the U.S. for the last ten years. Yet in the Netherlands, who just 50 years ago experienced disproportionately high fatality rates for people on foot vs. people in vehicles – just like the U.S. – has now not only decreased fatality rates considerably, they fatality rate for people on foot and for people in vehicles is now nearly identical at just 23 per million.
Compare that to the U.S. today where the pedestrian risk of fatality in 2019 was 686 per million – 8 times that of people in vehicles. Even people inside vehicles are in the U.S. are at much greater risk of dying in a motor vehicle crash than any class of road users in the Netherlands – including people on foot and people on bikes. So what changed in the Netherlands that we can learn from to produce similar results here in the u.S.? Read the Bloomberg CityLab article to find out.