Buttigieg says primary focus is less shovel-ready projects, more shovel-worthy projects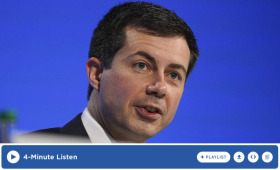 Transportation Secretary Pete Buttigieg told NPR's All Things Considered this week that while "it's important to be fast, it's more important for it to be good."
So as he starts to disperse infrastructure funds, Buttigieg says "the primary focus is less shovel-ready projects – although there are many that we are excited about supporting – but it's really shovel-worthy projects. Some of the effects of this bill will be felt right away – formula dollars that will be flowing in very short order to state highway departments, for example. But remember, this is not just a stimulus bill that's about getting through the next quarter. This is about building a transportation system that's going to serve Americans well for the rest of our lifetimes."
That sentiment about "formula dollars", though, as NPR's David Schaper reports, is not shared by all transportation planners – some who disagree with President Biden's promise that the half a trillion dollars beginning to be doled out by Washington will truly be "transformational".
Critics like Boston-area city planner, Jeff Speck, argue that the bill is not 'transformational' in the way that it will cause us to live, to move around and to either reform or worsen climate change. With provisions addressing climate change stripped from the bill to gain help it gain bipartisan support, Speck believes the resulting bill is not a huge shift in transportation priorities, and says while the new funding for transportation infrastructure is substantial, the same old spending formulas will drive it.
In response to criticisms, Buttigieg insists that this infrastructure law will be targeted differently with greater investments in electric vehicles and charging stations, in resiliency, in transit, in bike lanes and in trying to get more people out of their cars, critics of the bill point to the fact that the vast majority of funds is still going through the same old formulas that overwhelmingly favor roads and highways and will continue to contribute to climate change.
Later in the NPR interview, Buttigieg said, "The answer is not always to have bigger, wider roads. Sometimes, when you do that, you just get more cars and more congestion. But it really depends where you area. Sometimes, the roads legitimately need to be expanded. This is the United States of America. We will be relying on cars for as long as we live in some way, shape or form. But that doesn't mean it always has to look like the '50s. We can have more alternatives – better public transit, better active transportation. And when you are in a car, we can make sure that it's cleaner. All that together is a big part of the climate solution."
Buttigieg finished his conversation with NPR highlighting other priorities like regional equity in distributing competitive and discretionary grants so that they don't favor big, wealthier cities and regions of smaller, poorer ones, and racial equity and transportation access.
"Making sure that transportation dollars go out fairly in a way that gives people opportunity... Unfortunately, that's not always been true in the past. We have a chance to do something about that," said Buttigieg.
As NPR's David Schaper eloquently put, "There's an old joke in many parts of the country – that there are just two seasons: Winter and Construction." So we will keep you informed as the realities of how transportation dollars are allocated and spent at the city, regional, and state level here in Western Pennsylvania as Buttigieg moves forward with addressing "the country's huge demand to fix and replace again roads, rails, bridges and ports, while also pivoting to address broader climate and racial equity goals."
And we'll be working to help identify the "shovel-ready" and "shovel-worthy" projects as transportation funding begins to flow into the area and their impacts on multimodal mobility, equity, and access are identified – especially following today's bridge collapse which has created a significant (and inevitably long-term) disconnect for a what is a major multimodal artery utilized by an average of 14,500 vehicles per day, multiple mass transit routes, large trucks and delivery routes into the major institutions nearby, consider bicycle and pedestrian volume on the bridge and the trail beneath it which serve as a primary connector between neighborhoods and to/through Frick Park.
If you're not already subscribed to our Transportation News Update e-newsletter, enter your email address on our website to do so now.