Demolition at Innovation Research Tower project site in Oakland nears completion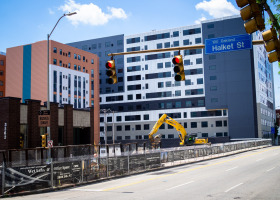 Demolition continues at the site of Walnut Capital's Innovation Research Tower located at the corner of Fifth Avenue and Halket Street in Oakland.
For transit riders: Remember that the bus stop located at the corner of Fifth & Halket has been temporarily moved to the other side of Halket St. near the entrance of Salud Juicery & Sciulli's Pizza. Port Authority routes affected by the temporary stop include 54, 71A, 71B, 71C, 71D, 75, 93, and P3.
Work began Tuesday, May 26, 2020 with existing buildings being demolished from both the Euler Way and Halket Street sides of the site along Fifth Avenue at the same time, meeting in the middle of the project site.
Construction will continue over an estimated two-year schedule.
For earlier demolition progress photos from June 1, 2020, go here.
Note: OTMA is a communication and outreach partner only. Specific inquiries should be directed to Nathan Mallory, Project Manager, PJ Dick at nathan.mallory@pjdick.com or (412) 228-9263.
Update 6/26/20: The photos below depict demolition progress as of Friday, June 26, 2020.
Walnut Capital describes the new building as multi-purpose, with a mix of laboratory and office space, along with street-level retail. The Innovation Research Tower will feature 10 stories and 280,000 square feet – 4,900 square feet of public plaza. The building will include 100 spaces of structured parking and 125 racks for bike parking.
# # #
Photos: Facture, LLC