OTMA hosts 3rd Annual Oakland Transportation Fair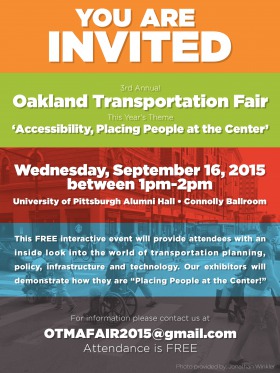 On Wednesday, September 16, 2015, OTMA hosted our 3rd Annual Oakland Transportation Fair. The event connected attendees with an inside look at what's happening in the world of transportation planning, policy, infrastructure and technology. Exhibitors demonstrated how they are "Placing People at the Center!"
Our Exhibitors were given an exclusive opportunity to attend a luncheon moderated by Suzanne Meyer, Marketing Expert. The panel included Stephen Davis, Director of Communications for Transportation for America; Brian Hare, Chief of Planning and Contract Management at PennDOT's Central Office; and Jon Pearlman PhD, PathVu co-founder.
OTMA hosted a total of 22 Exhibitors and over 120 guests.
Thank you to our Sponsors: The Center for Sustainable Transportation Infrastructure and the University of Pittsburgh's Urban Studies Program.
The 3rd Annual Transportation Fair was hosted by: University of Pittsburgh's Community and Government Relations.
To view pictures from the event, click here.